Auction
Household & Personal Property Auction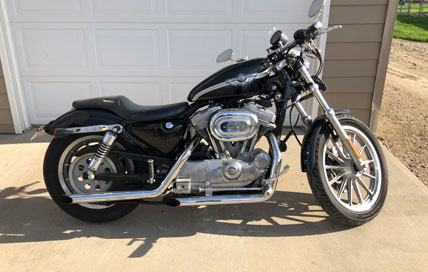 Household & Personal Property Auction
Date:
Sunday July 28th, 2019
Sale Time:
1:30 PM CST
Location:
4 blocks East of F & M Bank, White Lake SD 402 E 1st St (Roby Street)
Auctoineer's Note:
After nearly 80 years in her home, Carol is moving. She has made a career of cleaning and caring for other people. All items in very excellent condition!
Sale Items
Motorcycles - 2003 Harley Davidson Sportster 883 cc 6,700 miles new tires in excellent condition
Furniture & Household Items - full size bed w/ like new mattress and box spring, wooden bed frame, head and foot board dressers, dresser w/mirror and chest of drawers, computer desk and other desks, trunks, dining room set- table w/ 5 chairs, 5 leather kitchen chairs, electric lift chair, several recliners, Wurlitzer piano, end tables, coffee table, book shelves, metal storage cabinets, 2 TV chairs, 4 drawer file cabinet- several small file cabinets, suitcases, holiday decorations, sheets, blankets and afghans
Appliances & Kitchenware - 3 Freezers, (2 chest-1 like new) and 1 upright, new Kirby Vacuum, window air conditioner, televisions, fans, variety of lamps, meat slicer, electric fireplace, 42" ceiling fan -new, dehumidifier, microwave oven, toaster oven, iron, large Hamilton Beach mixer, electric griddle, kitchen dishes, large George Foreman grill, dorm size refrigerator, 30 cup coffee maker, waffle iron, deep fat fryer, decorative dishes 8-wheel baby stroller, high chair, pictures, knick-knacks, books, toys, dolls and puzzles, pots and pans, cookbooks, 3 sewing machines, crock pots, several Corningware pans w/lids, cake decorating pans (many kid's shapes)
Antiques & Collectibles - secretary desk, trunks, sewing machine, Tonka toys and other metal toys, wood chairs, old wood wagon, wood sled w/metal runners, flat iron and stand, kerosene lamp, cast iron skillet, lemon squeezer, wood dresser, wood cupboard, souvenir memorabilia, 1903 standard dictionary, baby carrier, lots of 33 rpm records, 2 iron head boards, 2 large crocheted tablecloths, clarinet
Yard & Shop Items - Snapper riding mower, lots of tools- hand and electric, electric supplies, wiring material, electrician tools, exercise equipment, wood flower pots, hoses, cords, wrenches, rakes, shovels, hand tools
Other items too numerous to mention…
---
Pictures
Sale Location
---
Carol Reinesch & Family– Owners
(605) 249-2362